Screen Monitor Software for Macintosh
The Application presented here allows you to Monitor Screen Changes on your Apple or Intel Macintosh easily. Now you can Monitor Pixel Color Change, Screen Text change with Optical Character Recognition, Barcode appearance on Screen, Appearance of animals (Cats and Dogs) on Screen and Face Detection on Screen. All the Screen Monitor Triggers mentioned earlier can be used to Trigger Actions like Speaking Text using Text to Voice Conversion, Activating a running Applicaton and moving it to desired Screen Location, etc. This Screen Monitor Software for Macintosh allows you to Monitor a pre-defined Screen Rectangular Area for various triggers and also allows you to Monitor Pixel Color at a pre-defined Screen Location. This Macintosh Application can be handy when you wish to Monitor your Screen be alerted when the change occurs.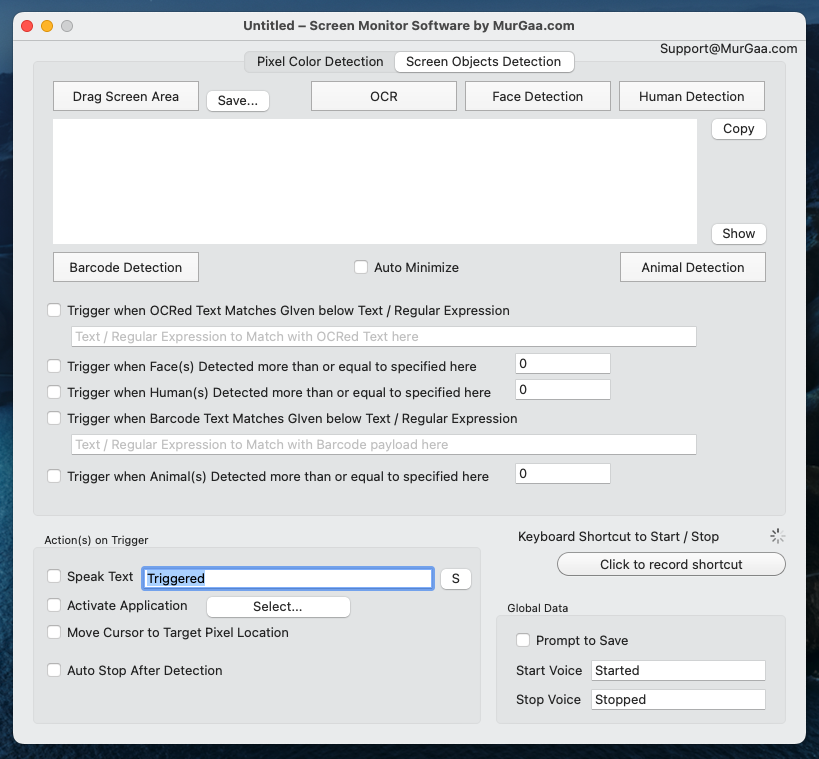 Download Free Trial of this Screen Monitor Software on your Macintosh (running 10.15 or later) to run natively on Intel or Apple Architecture. Once Free Trial of the Application expires, you can pay USD 9.87 and use it for upto 3 Months on a Macintosh.
Features of Screen Monitor Software for Macintosh by MurGaa.com
Given below are few of the features of this Screen Monitor Software for Macintosh. Yes, you can try this Application on your Macintosh or just read below to know what it can do and how it can be useful for Monitoring Screen Changes. You can also write to us by email in case you fees that any of the related feature is missing and if possible should be added to the application.
Monitor Pixel Color at specific Screen Location to become of specific Color or Not to be of Specific Color.
Detect predefined Text to appear in a Screen Rectangular Area. Note that you can also specify a Regular Expression to be Matched with OCRed (Optical Character Recognition / Image to Text Conversion) Text in order to initiate a Trigger Action.
Detect apperaance of Face in a Screen Rectangular Area. You can specify the number of faces to be detected before the Trigger Action is initiated.
Human Detection allows you to detect specified number of Humans visible in predefined Screen Rectangular Area.
Barcode Detection allows you to Monitor appearance of Barcode with preconfigured Text / Regular Expression.
Detect Cats and Dogs visible in pre-defined Screen Rectangular Area with Animal Detection Trigger available. The Trigger Action can be initiated when pre-configured number of Animals are detected in selected Screen Area.
Once any of the Triggers are triggered single multiple Trigger Actions can be initiated by this software including Speaking of Text with Text to Voice Conversion, Making a running Application Active and moving it to a pre-defined Screen Area and Moving Mouse Cursor to Monitored Pixel Color Location. Yes there will be more Trigger Actions added to the Software soon.
The Screen Detection can be stopped after First Detection or can run continously untill stopped by pressing the Stop Button.
As the Screen of this Software is big and requires a High Resolution Monitor, you can enable the option to Auto Minimize the Software Application Window when you wish to Select the Screen Area to Monitor.
You can also save the Selected Screen Area as an Image File to location of your choice in PNG Image File Format.
All the parameters of the Software including Triggers and Trigger Actions can be stored in a Data file and can be loaded later. Note that the option titled Global Data including Prompt to Save, Text Spoken at Start / Stop are Global and are applicable for all the Data Files.
Once you have configured appropriate Triggers, you can Start / Stop Screen Detection by assigning a Keyboard Shortcut from the bottom right corner of the software.
This Screen Monitor Software for Macintosh requires permission to Record Screen to detect Screen Pixel Color and Accessibility Permission to Automate Mouse Movement and to Interact with other Applications for Activate Application Trigger.
You can write to Support@MurGaa.com to report any issue with the Application, to suggest a new feature or anything else and get appropriate response as soon as possible, mostly within less than 24 hours on working days.
---
Download more Mac Automation Software Utilities to automate Mouse Clicking and Keyboard Typing.
---