Count Mouse Clicks on Mac
The Mouse Click Counter Software presented here is a useful and comprehensive software that can help you to count all types of Mouse Clicks. Download Mac Click Counter now on your Mac and use it on Mac 10.4 onwards. This Click Counter when running tracks Mouse Clicks made on the Mac on Desktop, in any application, in any game or while editing any type of document.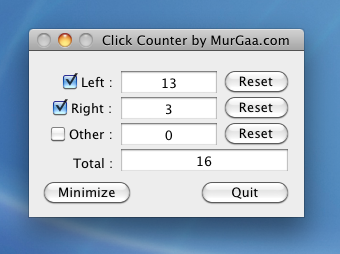 How to Download, Install and Use Mac Mouse Click Counter
Given below steps outline how you can download, install and use the Mac Click Counter.
Click on the Download link to start the downloading of Mac Click Counter. In case the download does not starts automatically on the click of the download link, right click on the Download link and save the target on your desktop or in any other location using Finder.
Locate the downloaded Mac Click Counter in Finder and double click on it to extract the Installer of Mac Click Counter.
Launch the Mac Click Counter Installer package, follow the onscreen prompts and close the Installer.
Now open Finder and navigate to the Applications folder and then further locate the Click Counter icon in Finder.
Launch Click Counter from the Applications folder of Finder.
Decide which mouse clicks you want to count / track and depending on the decision, check the appropriate checkboxes from the main screen of the Mac Click Counter.
Now Minimize the Click Counter or just move it to some appropriate location on your Mac.
Now onwards whenever you click the mouse cursor with tracked mouse click types, the Mac Click Counter will record the number of clicks.
The number of clicks recorded by the Mac Click Counter are automatically stored. You can Reset the Count of Mac Click Counter of any or either of Left, Right or Middle Mouse Clicks.
Use Mac Click Counter to count & track Left, Right or Middle Mouse button Clicks on Mac. This Counter can count the mouse clicks even when the mouse clicks are done on Desktop, Finder, Game or any other software. This Mac Click Counter works on all latest Mac OS X Operating Systems (version 10.4, 10.5, etc) such as Mac Lion, Mac Mountain Lion, Mac Leopard, Mac Snow Leopard, etc running on 64 bit version of Intel Architecture.
How to UnInstall / Remove Mac Click Counter
Make sure that the Mac Click Counter is not running. In case the Counter is running in minimized mode or visible mode, click on the Quit button to exit it from memory. Open Finder to locate the Applications Folder. Locate the icon of Click Counter, Right Click on it and select the option Move to Trash.
---
Mac Automation Software Downloads.
---